Our Work & Service
Consulting
Asian City Innovation System Initiative
Asian City Innovation System Initiative
---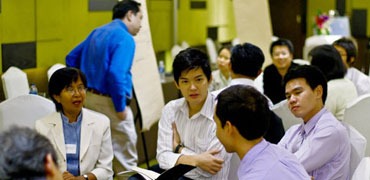 There has been very little focused research devoted to elucidating the reasons and drivers of innovation and innovative capacity within complex urban environments in emerging economies. This project seeks to examine the relationship between innovation systems and megacities in the six emerging economies of the Association of Southeast Asian Nations (ASEAN), and the mechanisms that explain observed differences in their innovation capacities. It will also propose policy options for forging linkages between innovation policies and urban development policies in these megacities in order to enhance their innovative capacities and competitiveness and productivity advantages while simultaneously addressing the undesirable consequences of rapid urbanization.
This project departs from the traditional methodological approach in the innovation systems literature by bringing the unit of analysis down to the city level by taking into account factors related to urban innovation and environment, and urban development and policy. The APEC Center for Technology Foresight is a key partner in this project and assisted in facilitating innovation system foresight, which will be the basis for developing a framework for integrated innovation and urban-development policy.
Through foresight, megatrends for each city will be identified by methodologies such as real-time Delphi surveys and Open Space facilitation method. The city of Bangkok was selected as the initial model city and megatrends together with new ideas were generated through Open Space, and used as important inputs into scenario writing. Capacity building workshops were held in Bangkok to train ASEAN members in innovation system and foresight methods, provided with detailed manual and tools. Similar approaches are plan to be made across all six cities country representatives following the model of Bangkok.
For ASEAN city innovation system, two levels of scenarios are envisaged: city level and ASEAN-wide, and projection of scenarios will be targeted at the year 2050, applying the socio-demographic, technological and scientific, economic, environmental and political (STEEP) technique. The output of this project is used in the formulation of Thailand's national science technology and innovation policy.
This project was funded by IDRC (Canada).Please visit the project web site at http://www.cisasia.net
Back