Our Work & Service
Consulting
Ten Year Strategic Plan of Thai Health Promotion Foundation (ThaiHealth)
Ten Year Strategic Plan of Thai Health Promotion Foundation (ThaiHealth)
---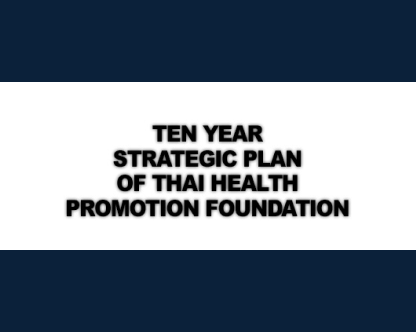 On February 2011 the Center provided consultancy service to Thai Health Promotion Foundation (ThaiHealth), an organization which takes an important role on facilitating and transforming health promotion opportunities into concrete actions, by the channel of management and budgeting support.
Founded in 2001, ThaiHealth has been setting the organization strategies by using the existing issues of the country, of those concerned as serious issues which affect to Thai citizen directly, such as alcohol and cigarette, without the opportunity to give serious consideration on factors which could impact the well-being of people indirectly or any issues which could impact well-being of people in the future.
However, in 2010, ThaiHealth started working on the organisation's strategy setting towards the next 10 years, and 'Future Study' (as they understand) was given attention because of the dramatic global changes. ThaiHealth, therefore, changed the tune to work proactively on the coming issues which could have any impacts on health and well-being of people who live in the country.
A Workshop was held on 11-12 March 2011, chaired by Dr. Suwit Wibulpolprasert, MD., the senior advisor of the Minister of Public Health. There were 35 participants in the workshop. The composition of participants varies from people in health sector to private sector in many areas in order to scan the horizon as effectively as possible.
The methodology used in this workshop was Futures Wheel. The group brainstormed and generated a number of global megatrends and key domestic trends, which were used as cores of the Futures Wheels. Participants were asked to think about the megatrends in various dimensions and then voted for the ones which, indeed, could bring about huge impacts to the country. The voted megatrends were 1) Geopolitics/Economics 2) Social crisis/Inequality 3) Political Crisis and 4) Climate change
To run the Futures Wheel, the brainstorming is to draw out participants' opinions and ideas of the primary impacts and secondary/tertiary consequences of trends. Wheels were then developed by participants to show how changes from the megatrends/trends could affect the future of other area, in particular 'well-being' in Thailand in this case. The 'health determinants' or factors related to well-being both directly and indirectly were thus identified.
From the result of Futures Wheel, 'health determinants' were identified as
public awareness on consumption and health prevention
climate change and environmental concern
equality of resource accessibility
public participation
From the identified 'health determinants', ThaiHealth adopted 3 issues which were 1) public awareness on consumption and health prevention 2) equality of resource accessibility and 3) public participation. They translated these three issues into specific strategic targets in the 10-year organization strategies, in parallel with other policy processes.
Back